Yosemite National Park Map
Mammoth Lakes Map
Top Trails at Lake Tahoe
High Sierra Trails
A Backpacker's Guide to the
Most Spectacular Trails
in the Sierra Nevada

Sierra Day Hikes
Yosemite National Park, Lake Tahoe, Sequoia and Kings Canyon National Parks, and Mammoth Lakes
Enjoy scenic Day Hikes at the most popular recreation areas in the Sierra Nevada, from Lake Tahoe and Yosemite to Sequoia and Kings Canyon. Find just the trail to suit your interests, whether it's an easy stroll among giant sequoias or an invigorating hike to the top of Yosemite Falls.
Discover special places such as Wawona's swinging bridge and tranquil meadow loop. Hike up the Mist Trail to Vernal Fall or along the shore of Emerald Bay. Picnic at Mammoth's Crystal Lake or visit Sequoia's General Sherman - the largest tree in the world.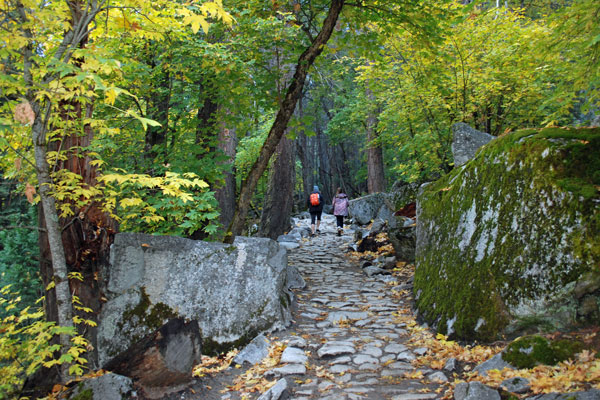 For Every Sierra Day Hike Find . . .
Trail Descriptions, including mileage, elevation changes, and key route details
Maps, showing trailheads, trails, and nearby features
Trailhead Information, including location, parking, restrooms and drinking water
Images of the surrounding area and destination
Things to Know such as regulations for pets, safety cautions
Nearby Hikes with links and trail highlights

Spectacular Yosemite day hikes abound in the valley as well as at Wawona and in the high country around Tuolumne Meadows. Visitors can choose gentle paths on the valley floor, scenic loop trails to Mirror Lake, or an exhilarating climb to the top of Half Dome.
In Wawona the amazing Mariposa Grove has opened once again after a renovation project. Stroll through the largest grove of Giant Sequoias in Yosemite.
Find wonderful day hikes all around Lake Tahoe. At South Lake Tahoe explore Van Sickle Park or on the Nevada side tour pretty Spooner Lake and Tahoe Meadows. Enjoy waterfalls, meadows, and mountain vistas. Hike along the shore of Emerald Bay.
For spectacular panoramic views of Lake Tahoe and its surrounding peaks, set out for the summits of Mount Rose and Mount Tallac.

Day hikes in Sequoia and Kings Canyon national parks include the short trek to the top of Moro Rock and an easy hike to Roaring River Falls. Stand before the world's largest trees - the General Sherman and General Grant giant Sequoias.
Wander along the edges of Crescent Meadow to historic Tharp's Cabin built into the hollow end of a fallen Sequoia. Take in amazing views from Panoramic Point and Buena Vista.

Magnificent scenery awaits day hikers around Mammoth Lakes in California's Eastern Sierra. Short trails lead to hidden lakes tucked against surrounding peaks or to the fascinating ruins of the Mammoth Consolidated Gold Mine.
Nearby Reds Meadow, Devils Postpile, and the June Lake Loop also have wonderful places to explore on Sierra Day Hikes. In Devil's Postpile visit beautiful Rainbow Falls and near the June Lake Loop take the trail to picturesque Parker Lake.
Rating the Difficulty of the Hikes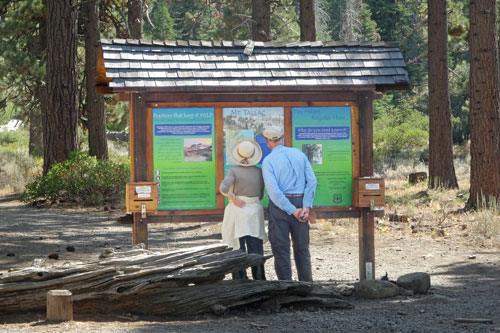 Many factors contribute to the difficulty of a particular hike. Among them are starting elevation, elevation gain, miles, and the condition of the trail. What might be a moderate hike for one person could be strenuous for another. Use the ratings as a general guide, but also read the details of the hike to help you decide if it is right for you.
Easy - generally ½ - 2 miles with only moderate uphill.
Moderate - either short mileage with some steep uphill, or longer mileage with a gentle grade.
Strenuous - a half-day or full-day of difficult uphill hiking over extended miles such as hiking to the summit of Mount Tallac or the top of Yosemite Falls.