Sierra Day Hikes

Spectacular Yosemite day hikes abound in the valley as well as at Wawona and in the high country around Tuolumne Meadows. Visitors can choose gentle paths around the valley floor, scenic loop trails to Mirror Lake, or an exhilarating climb to the top of Half Dome.
In Wawona the amazing Mariposa Grove has opened once again after a renovation project. Stroll through the largest grove of Giant Sequoias in Yosemite.
Find wonderful day hikes all around Lake Tahoe. At South Lake Tahoe explore Van Sickle Park or on the Nevada side tour pretty Spooner Lake. Enjoy waterfalls, meadows, and mountain vistas. Hike along the shore of Emerald Bay.
For spectacular panoramic views of Lake Tahoe and its surrounding peaks, set out for the summits of Mount Rose and Mount Tallac.

Day hikes in Sequoia and Kings Canyon national parks include a short trek to the top of Moro Rock, rambles among the world's largest trees, gushing waterfalls, scenic meadows, and spectacular panoramic vistas.
Rating the Difficulty of the Hikes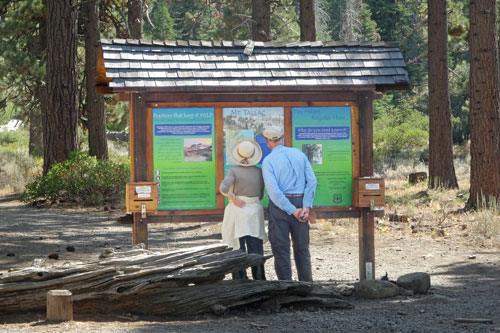 Many factors contribute to the difficulty of a particular hike. Among them are starting elevation, elevation gain, miles, and the condition of the trail. What might be a moderate hike for one person could be strenuous for another. Use the ratings as a general guide, but also read the details of the hike to help you decide if it is right for you.
Easy - generally ½ - 2 miles with only moderate uphill.
Moderate - either short mileage with some steep uphill, or longer mileage with a gentle grade.
Strenuous - a half-day or full-day of difficult uphill hiking over extended miles such as hiking to the summit of Mount Tallac or the top of Yosemite Falls.